Isuzu NPR, NQR & GMC W Series Radiator
Search our chart below and find your Truck Radiator is that simple, just make sure you have the production date available. We supply Truck Radiators for Isuzu NPR, NQR & GMC W series. ( please note all these trucks use same radiators).
Looking for a NPR radiator for your Isuzu truck or related vehicle? Your NPR truck radiator is made to OEM specifications for all of Isuzu NPR,NQR & GMC W series truck radiator applications. Our Isuzu radiators are made to fit popular applications such as Isuzu NPR truck radiators and related GMC W series radiators. To locate your Isuzu NPR, NQR & GMC W series radiator, search via our detailed products chart below.
Our Radiators are manufactured with the highest quality materials to ensure longlife, perfect fit, easy installation and offering the best in overall performance. 100% Leak Tested and always in stock for less downtime! (please make sure to use the correct type of antifreeze and concentration with distilled water for years of trouble free)
ISUZU N / GMC W Series Description:
Brand
USA #
Description
Year
CM core ( mm / Inch)
ISUZU
0R-IS0001-F4
IS N series/ GMC W Series Gas
09/1994 - 05/1996
590 * 545 * 42
23-1/4 * 21-1/2 * 1-3/4
ISUZU
0R-IS0002-F4
IS N series/ GMC W Series Gas
06/1996 - 09/1997 590
590 * 545 * 42
23-1/4 * 21-1/2 * 1-3/4
ISUZU
0R-IS0003-F4
IS N series/ GMC W Series Gas
11/1997 - 12/2002
590 * 545 * 42
23-1/4 * 21-1/2 * 1-3/4
ISUZU
0R-IS0004-F4
IS N series/ GMC W Series Gas
01/2003 - 12/2005
590 * 545 * 42
23-1/4 * 21-1/2 * 1-3/4
ISUZU
0R-IS0005-F4
IS N series/ GMC W Series Diesel
09/1994 - 12/1997
590 * 545 * 42
23-1/4 * 21-1/2 * 1-3/4
ISUZU
0R-IS0006-F4
IS N series/ GMC W Series Diesel
01/1998 - 12/1998
590 * 545 * 42
23-1/4 * 21-1/2 * 1-3/4
ISUZU
0R-IS0007-F4
IS N series/ GMC W Series Diesel
01/1999 - 12/2002
590 * 545 * 42
23-1/4 * 21-1/2 * 1-3/4
ISUZU
0R-IS0008-F4
IS N series/ GMC W Series Diesel
01/2003- 12/2008
620 * 588 * 42
24-3/8 * 23-1/8 * 1-3/4
**Note 1: Above Products are P/A same as OEM ***Note 2: OEM thickness is 35mm, CM is 42mm
ISUZU N / GMC W Series Description:
| Brand | USA # | Arrival Date | CF # | OE No. 1 | OE No. 2 | OE No. 3 | OE No. 4 | OE No. 5 |
| --- | --- | --- | --- | --- | --- | --- | --- | --- |
| ISUZU | 0R-IS0001-F4 | In Stock | 3201 | 8-97044-293-3 | 8-97128-881-0 | | | |
| ISUZU | 0R-IS0002-F4 | In Stock | 3203 | 8-97143-373-1 | | | | |
| ISUZU | 0R-IS0003-F4 | In Stock | 3205/3207 | 8-97179-328-2 | 8-97214-669-0 | 8-97222-913-1 | | |
| ISUZU | 0R-IS0004-F4 | In Stock | 3208 | 8-97311-558-0 | | | | |
| ISUZU | 0R-IS0005-F4 | In Stock | 3202 | 8-97128-887-0 | 8-97128-888-0 | | | |
| ISUZU | 0R-IS0006-F4 | In Stock | 3204 | 8-97177-846-0 | | | | |
| ISUZU | 0R-IS0007-F4 | In Stock | 3206/3210 | 8-97213-664-1 | 8-97730-088-0 | 5-87410-784-1 | 8-97354-362-1 | 8-97354-365-0 |
| ISUZU | 0R-IS0008-F4 In Stock | In Stock | 3209 | 8-97333-140-0 | 8-97333-141-1 | 8-97333-140-3 | | |
Featured NPR Radiators (select the radiator you need here)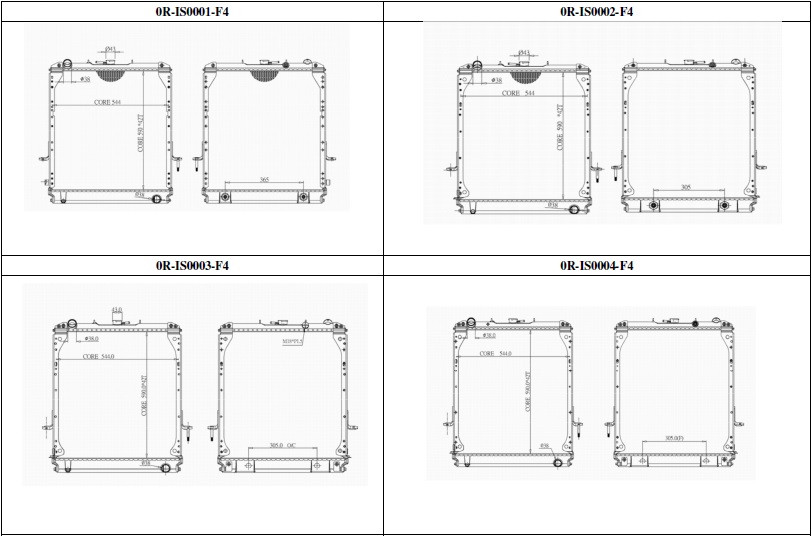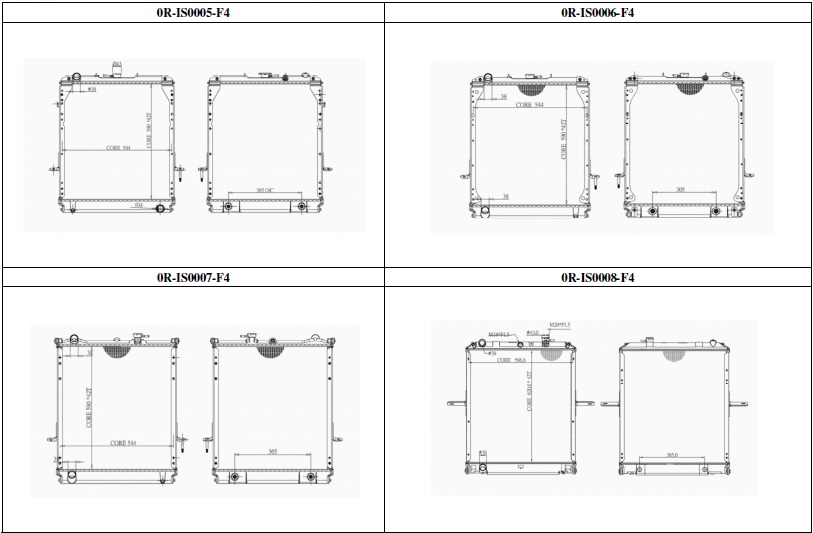 Part Number Search
Order Number Search